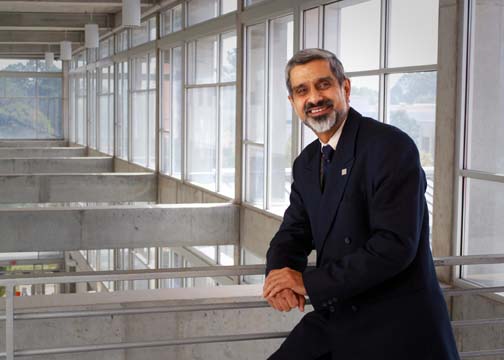 The US has several Indian-Americans doing important work in academia.  Meet Beheruz. N. Sethna, President of West Georgia University which has a budget of $ 100 million and 100 programs of study through the doctoral level.
He's a Parsi who's got some important firsts affixed to his name: he is the first person of Indian origin to ever become the president of a university anywhere in the US. He's also the first person from any ethnic minority to become president of a predominantly white or racially-integrated university or college in Georgia.
While Indian heads of American universities are becoming more commonplace now, back in the 80's Sethna, who is a professor of Business Administration, was the only one. In fact he has the rare distinction of being the president of three universities – West Georgia College, State University of West Georgia, and The University of West Georgia – all of them in the same office!  He jokes, "I was the last President of West Georgia College, the first and only President of the State University of West Georgia, and the first President of The University of West Georgia."
He had started as the president of a College with 7,000+ students, and today, the institution after two name and designation changes, is one of four robust- tier doctoral comprehensive universities in the 35-campus University System of Georgia, with 11,500 students.
It's interesting to learn that he is the president who almost wasn't. Two decades ago, when he was candidate for the post of dean, his name almost wasn't shortlisted because it was assumed that being Indian he couldn't speak English! Years later when he was candidate for president, the stereotypes and prejudice kicked in once again. Georgia law requires that the names of the top finalists be disclosed, and just on the basis of his name and bio, there was a huge protest in the town.
In the State of Georgia there had never been a minority president of a
predominantly white university, and people were concerned whether he would be able to lead.  Sethna delighted in proving them wrong and says, "The stereotype will persist until there is an example to break the stereotype. That is the challenge and excitement in being the first."
Sethna, who comes from a family of modest means in Bombay, has other impressive firsts to his credit.  His father worked in a cotton export company where he rarely made more than Rs. 500 a month yet his dream was to see his son attend IIT Bombay, and he constantly brainwashed him with this seemingly impossible dream.
"My mother told me at an early age that they were going to put every penny they had into my education," he recalls. "I even wore hand-me-downs when I first went to school."  Sethna graduated from IIT Bombay in electrical engineering and went on to do his PhD at Columbia University.
He has fond memories of IIT Bombay which he feels inculcated him with great work habits. "I learned how to work really hard – night after night, often with just two hours sleep. I learned what has today become fashionably known as the 'power nap' – I developed this strategy for myself in the 60's and I can do that even today – sleep for 5 to 10 minutes at a time – and then literally work for hours!"
This secret weapon comes in handy as he manages thousands of students under his care and takes the university on the trajectory of success, what he calls 'transformational change.'
"When I came in 1994, 51 percent of entering students needed remedial education, and today that percentage is about one half of one percent, which is a one-hundred-fold improvement," he says. "We have increased capital projects and facilities improvements funded and approved by about one quarter of a billion dollars. Our land holdings have increased by 67 percent, from 284 acres to 644 acres."
Yet take a look at Sethna's business card and you'll see he always identifies himself as a professor first and president second. As President of a University with 11,500 students and programs through the doctoral level, he teaches a sole-instructor course every year which gets high teaching evaluations. "One of my most cherished honors is that I earned the distinction of being named Honors Professor of the Year – elected by the students," he says.
His creative ideas  have led him to be honored seven times by the Decision Sciences Institute, which recognizes three courses annually as being the most innovative in the nation and invites the instructor to make a presentation on the course.  Sethna remains close and accessible to his students, and is even known to help them move in, giving them a hand with their boxes and belongings!
Being president of the equivalent of a tiny nation, Sethna has often had to take difficult stands which don't go down well in conservative sections of rural Georgia, on issues relating to homosexuality or the Bible. On a lighter side, he even had to take a stand on something about which Georgians feel strongly – their team mascot. For political correctness he had to change the team's name from the Braves, which was offensive to Native Americans, to the Wolves.
Almost 99.5 percent of the public opposed this name change and there are sports fans who will probably never, ever forgive him for it but by engaging the community and through consensus, Sethna managed to do it. So that's another first – he's probably the first university president in America who changed the name of the beloved team mascot – and lived to tell the tale!
The university has become a passion and in his 17 years as president, Sethna has introduced a number of innovations, such as creating Georgia's first and only Honors College, Georgia's first Advanced Academy for exceptionally-gifted high school students, and establishing the college's first endowed chair and approval for its first three doctoral programs. Fundraising is always a challenge but even after the decline resulting from the stock market deterioration, Sethna has worked with his team to increase the university's endowment by 650 percent.
Ask him what he likes to do in his spare time and he jokes, "That's a very easy question to answer because there's never a time when I'm not working, as my wife will tell you!" But he admits he's very much a family man who adores the family connections, and is close to his children, Anita and Shaun, who live in Atlanta.
Sethna is Zoroastrian but his wife Madhavi to whom he's been married to for over 38 years is a Hindu, and when recently their daughter Anita married an American Christian, they celebrated the wedding with all three religious ceremonies. The Sethnas also maintain a small foundation in India through which they believe in giving to all communities, irrespective of religion.
In a way though, learning is a religion too for the Sethnas, starting with the fervent efforts his father made to get him a world-class education to Beheruz's own efforts to educate thousands. He adds with humor, "We complete the set – I'm a Ph.d, my wife is an ed.D, Anita is a MD, and Shaun is a JD!"  Education certainly runs in the family.
(C) Lavina Melwani
(A version of this article first appeared in Hi Blitz, a lifestyles magazine in Mumbai)
Related Article: