Meditation 101
My Spiritual Journey – Destination

Unknown
My blogs usually are about trips to exciting and exotic international destinations, and these trips typically last about two weeks or so. Today I'm writing about a very different journey – my journey on the path of meditation that I have been on for about three years. When I set off on that trip, I didn't even know that I was embarking on a journey.
I started learning meditation out of exasperation. My sister had been insisting that I attend a course with Art of Living (AOL) because it would help me. I was quite sure I didn't need help. My experience growing up in India and then living  in the US for several years was that this stuff was either for the ultra-religious Indians or new age Americans. I was neither.  But I took the course anyway – so I could turn around and let my sister know that it was no good and a waste of money!
The Spiritual

Skeptic
After the first course, I was quite convinced that it was no good. And a waste of money. My skepticism was driven largely by the fact that this organization was guru-led. And in those days, any "spiritual" organization that was led by one person with a label of 'guru' got the benefit of my skepticism. My judgment was that the volunteers of such organizations had drunk the kool-aid and had blind faith, which prevented me from accepting them or even taking them seriously.
Looking back, I can't explain what exactly happened or in what order. I usually read a lot and go through phases in the subject matter that I read. Around that time, I started reading a lot of books and articles on the subject of spirituality, happiness and social psychology (Power of Now, Blink, Happiness Hypothesis, to name a few).
Maybe it all cooked in a potpourri in my mind, but I started to see a repeating message across the multiple channels and thought: they can't all be rubbish, can they? Can this all be a conspiracy? Could it be that they all got together and decided they would sell us unsuspecting skeptics a bill of goods?
Meditation

& the Shift
The one thing I did do after the course was my breathing and meditation practices. Although I couldn't point out exact benefits, it became a bit of a habit to do the daily practices and it felt right. It was probably not until a good year or so later that I realized that some things had fundamentally shifted, ever so subtly.
I was rebounding from disappointments quicker than before, I had more moments of joy throughout the day, and those were not from material or typical sources. Usual irritants turned into amusements. I suddenly remembered that it had been a dream to work in NYC many years ago, a dream long forgotten. And I was now living it!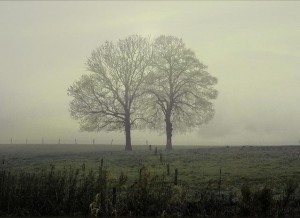 Then I had another experience that was perhaps the most influential in persuading my skeptical mind. I had enrolled in an exec-ed program at Harvard Business School which is as mainstream an educational institute as you can get. Towards the end of the six month program, they brought in a group of actors from Ariel Group who were going to teach us a thing or two about leadership. What can actors possibly teach a bunch of corporate types about leadership, you ask? I asked that too.
Well, the premise is that actors need to persuade their audience of an emotion they want their audience to feel. Enthusiasm, compassion, energy, alarm, fear, happiness, excitement. The most effective actors are not really acting at all. They are feeling the emotion so strongly that they affect their audience across the seats or electromagnetic waves with it.
In other words, they fake it until they make it. How do they do it? Turns out, they are in the 'present moment'. They use breathing techniques. Many use meditation techniques. The instructors had us perform Improv. Tell our 'life story'. Shout out the 'ha' from the stomach region. Take deep breaths before a public performance. They had us do several experiential exercises on how to connect with others at a deeper level  – in 5 minutes or less. Many of the same techniques I had learned at Art of Living.
Spirituality &

Social Media
Recently I started gaining an interest in social media. Although it's not part of my day job, I really wanted to learn about what is nothing short of a phenomenon. As a co-incidence one of the volunteers at Art of Living started talking about using social media to promote a new campaign. He had me at 'social media'. And the idea that I could finally give back, having received so much, was the clincher.
So over the past several weeks, I have become consumed with how to use social media to drive this nonprofit campaign. After several marketing brainstorms, we named the campaign, "I Mediate NY". A few more sessions led to our catchy logo. The goal is a Recharged New York through meditation techniques. When we discussed messaging and the objectives among the marketing team members, we agreed quickly that anything that can help New Yorkers has to give them the fuel to go at the speed they want.
The campaign is in full swing now with the official launch on Sunday, April 10, 2011 at Avery Fisher Hall, Lincoln Center. Starting early March, we launched our website, Facebook, Twitter and Meetup channels in quick succession. We gained almost 300 Facebook likes in the first few days via organic growth and after 5 weeks were at 3000 likes. Our Meetup channel allows the online world to meet the offline via free meditation workshops at the Art of Living Center.
Back in February, when I attended Social Media Week in NYC, I didn't know what a twitter hashtag was. Today, I am lucky to associate with a brilliant team of marketing executives and entrepreneurs in designing and executing the I Meditate NY campaign using social media.
I have learned a ton about cause-based social media campaigns as well as several other aspects of event planning (remember: this is a volunteer gig, you do whatever you get pulled into). I am building a new team in my day job.  I am organizing a business conference for my Harvard Business School cohorts. I am a community organizer for young Sikh Professionals in NYC.
Slowing down is not an option for New Yorkers, not for me either. At least not right now.
Meditation helps me go fast, by slowing down for 20 minutes every day.
(Jinny Uppal is a Director in Merchandise Planning at a major online retailer. She has an MS degree in Computer Science from Florida International University and has completed the Program for Leadership Development from Harvard Business School. In her personal time, she uses social media to promote a pro-social initiative called I Meditate NY. She is also a community organizer for the Sikh professional community in New York City)
What's been your journey like? What does spirituality mean to you? Please share.
Related Article: